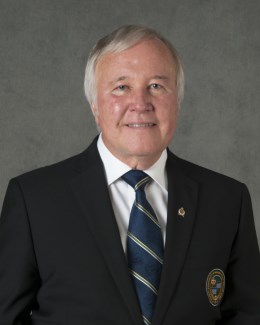 Dave Eke was appointed to the Regional Municipality of Niagara Police Services Board by the Provincial Government under an Order in Council from the Lieutenant Governor of Ontario for a three-year term commencing June 20, 2019.
Mr. Eke is a life-long resident of the Niagara Region, having lived in St. Catharines, Niagara-on-the-Lake and Niagara Falls. He brings over 40 years of experience in both the public and private sector. Mr. Eke is an Industrial Engineer and was employed with General Motors in St. Catharines for 34 years with a background in Production Supervision.
He was first elected Alderman for the Town of Niagara-on-the-Lake in 1991 and was re-elected in 1994. Mr. Eke was elected as a Regional Councillor in 2000 and re-elected to serve a second term on Regional Council in 2003. He was elected as Lord Mayor for the Town of Niagara-on-the-Lake in 2010 and in this capacity served as a member of Regional Council.
He has an extensive record of community service, including being past Member and President of the Niagara-on-the-Lake Lions Club, former Member of the Niagara-on-the-Lake Committee of Adjustment; past Board Member with Niagara Regional Housing and the Niagara Peninsula Conservation Authority; former Board Commissioner of the Niagara Parks Commission and Niagara District Airport Authority; past Board Director of Niagara-on-the-Lake Hydro; former Governor for the Shaw Festival Theatre; and past Member and Chair of the Niagara District Health Council, Niagara Goodwill Industries, and the Niagara-on-the-Lake Library Board. Dave is happily married to his wife Debbie and they have two children and five grandchildren.