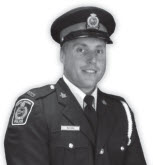 Constable Dale Racine Educational Bursary
The Niagara Regional Police Service is proud to present the Constable Dale Racine Educational Bursary. Constable Racine was a dedicated member of the Service's Marine Unit whose smile, cheerfulness, knowledge, enthusiasm, and leadership were inspiring. He served and protected the members of the Niagara Region for over 11 years. His commitment to his community is honoured through this Bursary.
The Constable Dale Racine Educational Bursary is designed to financially assist qualified applicants in obtaining degrees or diplomas from accredited academic institutions of higher learning. The Bursary is open to any student preparing to enter college or university who, without financial assistance, may not be able to do so.
The Bursary will be awarded annually to select graduating students who have been a resident of the Niagara Region for the duration of their secondary school experience.
This year students will be awarded with $1,000 bursaries.
PLEASE NOTE - THE DALE RACINE EDUCATIONAL BURSARY HAS BEEN TEMPORARILY SUSPENDED.
All application packages must be submitted in PDF format, on or before the application deadline, to the following email address:
StudentBursary@niagarapolice.ca
Click on the buttons below to access PDF versions of the Bursary Criteria & Bursary Application that you can print and fill out.
For more information on Constable Dale Racine