Canadian Police and Peace Officers' Memorial
The ceremony at the Canadian Police and Peace Officers' Memorial takes place each September in Ottawa.
Ontario Police Memorial
The Ontario Police Memorial, located adjacent to Queen's Park in Toronto, was officially dedicated in 2000 and the ceremony takes place there, each May.
We pay tribute to the nine police officers who served in the Niagara Region and gave their lives in the line of duty. These members of "Niagara's finest" are honoured each year at the ceremonies of remembrance.
Constable Charles Richards (age 42 years)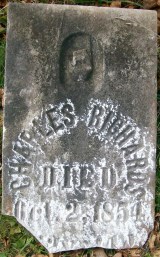 Start Date - Village Constable Port Robinsn - unknown
Died - "Shot" effecting arrest in Port Robinson Oct.2, 1854
Constable Charles Richards was born in the East Indies on September 1812. He travelled and settled to Upper Canada and lived in the village of Allanburg. After the Rebellion of 1837 38, the nearby village of Port Robinson was the central village in the expansion of the Welland Canal and was as significant a town as St. Catharines and Buffalo for commerce and trade. After the Erie Canal expansion was completed, people and families arrived in droves to seek work on the Welland Canal second cut - including our constable's future wife. In and between the villages of Port Robinson and Allanburg, you would find busy hotels, blacksmiths, groceries, doctors, lumber yards, and several denominations of churches, carriage makers, carpenters, cloth mills, ship builders, druggists, saddlers, shoemakers, tailors, plaster mills and even a pail factory. With the influx of mostly Scottish Irish immigrant workers and two regiments stationed to keep the peace with all the hustle and bustle, it really was the place to be.
One of the challenges in this research was to figure out just HOW Charles Richards became a constable. What was discovered was in Port Robinson, from 1843 until his death, Charles Richards held various Ale & Beer, Tavern and Inn Licenses. As an Inn Keeper, Charles Richards was designated as village constable by the local Magistrate. Further, in a time when many Inn Keepers were prosecuted for neglecting their constable duties, we would see that Charles Richards performed his duties without hesitation.
Charles and his wife Jane, held a number of properties in Allanburg and Port Robinson, including for a time, a small farm in Allanburg where they lived in a small framed house, identifying themselves with the Church of England. In Port Robinson, around the same time, he also purchased some crown land and held property that was well known to have a variety of fruit trees.
On October 2, 1854 around 4:00pm, about four miles south-west of Port Robinson, a farmer by the name of Jacob Gainer was robbed of $25 by three men, one of whom identified himself as William Townsend. William Townsend, also known as Robert McHenry, was well known as a minstrel show performer, was an excellent mimic of accents and disguises and often travelled from town to town, sometimes as a ship hand travelling the canal and water picking up odd jobs but he was also and foremost known as the principal member of the notorious Townsend Gang or the Cayuga Gang.
After the robbery, Mr. Gainer tried to locate the local magistrate but he was not at home. The news of the robbery travelled very quickly to Port Robinson. Upon learning of the robbery and that William Townsend was eating at the Jordan Hotel, Constable Charles Richards crossed the street from his own hotel and attended the Jordan Hotel to observe Townsend while he ate dinner. When Townsend went to leave, Charles Richards, in the execution of his duties as Constable, approached him, placed his hand on his shoulder and affected the arrest telling him that he was taking him prisoner. Witnesses would recall that Townsend told Richards three times to remove his hand, but Richards, focused on his duties as Constable would not relent. Townsend pulled out a revolver and shot Charles Richards in the head before a room full of witnesses and in the chaos fled the village on foot.
A Dr. McPherson attended the mortally wounded Constable and reported that Richards lived about an hour after his arrival. He was 42 years and 14 days old. The cause of death was a ball entering the brain about ¾ of an inch above the left ear. Charles Richards was buried in St. Paul's Anglican Church Cemetery in Port Robinson in an area where other men of prominence had and would later be buried leaving behind his wife, Jane.
William Townsend was later found, arrested and tried for the murder of Constable Charles Richards in the spring of 1858. The sensational trial, packing the courtroom for eleven days came back with a "not guilty" verdict as the jury was unable to agree on the identity of the accused. Strangely, at a previous trial for the murder of a Mr. John Nelles, the same accused was acquitted of the crime for the same reason. The outrage and feeling of injustice was so great, a memorial was adopted at the next month's session of the Welland County Council at Drummondville, demanding that the identity of the accused be verified, lest another murder occur and go unpunished but William Townsend slipped away never to be heard of again.
Charles Richards' contribution to the safety and history of Port Robinson went unnoticed until 2012, when he was inscribed on the Ontario Police Memorial.
Constable Joseph Trueman (age 35 years)

Start Date - Welland Police Force - May 1920
Start Date - Thorold Police Force - Sept. 1921
Died - "Shot" walking the beat in Thorold Dec. 17, 1922
Joseph Trueman was born on Monday April 25th 1887, in the Town of Balleygawley, of the County Tyrone, in Northern Ireland. He was one of ten children (five boys & five girls) born to Joseph Trueman and his loving wife Sarah Matilda Trueman (nee: Givan).
At the age of twenty-one he decided to travel to Canada, the land of opportunity, and make his life there. His older brother and sister, William & Matilda were already living in Canada and young Joseph stayed with them in Toronto until securing a job as a bank messenger in Welland, Ontario. His brother and sister soon moved west to British Columbia with their young families, while he remained in Ontario. Joseph continued his employment with the Imperial Bank for a number of years and was an active member of the community. He was a member of the Copestone Masonic Lodge as well an active member of the Welland Baptist Church.
Shortly after his thirty-third birthday Joseph Trueman decided to become a police officer, so he joined the Welland Police Department. In September of 1921 he moved to the nearby town of Thorold, Ontario and became a member of the police force there.
Described as gracious, kind and thoughtful, Joseph Trueman had a smile and kindly greeting whenever one met him on the street. He was a likable, warmhearted, Irishman, who prided himself in a job well done, overlooking no duty.
In the early morning hours of Sunday, December 17th 1922, while alone in town on foot patrol, thirty-five year old Joseph Trueman was confronted by a known bootlegger and was shot to death.
As a result of his strong sense of duty, Joseph Trueman ultimately and tragically made the supreme sacrifice and gave his life enforcing the rule of law to protect society from the evils of violence and crime.
At the time of his death, Constable Trueman was engaged to married.
Constable James A. McNicoll (age 27 years)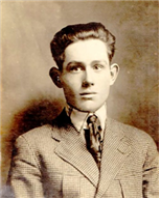 Start Date - Crowland Township Police Force (Welland Police) 1928
Died - "Shot" while responding to a "Gun Call" - Sept. 2, 1930
In 1928, James at the age of 25, became a Constable with the Crowland Township Police Force. Crowland Township later becomes part of the City of Welland. Here, Constable McNicoll quickly established a reputation as a courteous and fearless officer and was esteemed by his fellow officers.
On Tuesday September 2 1930 at approximately 8 p.m., Constable McNicoll was on duty at Police Headquarters located on Steel Street. He was talking to Customs and Excise Officer George Spencer when an emergency call was received to a Sixth Street residence reporting a gun being fired. Constable McNicoll immediately rushed to the scene in a car driven by Spencer. Arriving at the scene moments later, Constable McNicoll approached the house while Spencer parked his car.
As Constable McNicoll arrived at the steps leading to a glass enclosed verandah at the front of the residence, a 45 year old man inside and hidden from sight, rose up pointing a double barreled 12 gauge shotgun at Constable McNicoll. Without warning, the man fired the gun at Constable McNicoll striking the officer in the head. McNicoll never had a chance to draw his service revolver. He died instantly from a single shotgun wound to the head. A 17-year-old and a 12-year-old girl playing across the street from this residence suffered minor shotgun pellet wounds to their legs.
Constable James Albert McNicoll was 27 years old at the time of his death. He left behind his wife and four children ranging in ages from 18 months old to 7 years old.
The suspect was arrested for the murder of Constable McNicoll. Following a trial, an appeal and second trial, the accused was sentenced to death by hanging. On Friday May 15 1931 at 5:30 a.m., as the morning sun began to rise, the accused was hanged in the courtyard of the County Jail in Welland.
Constable McNicoll's grandson, Rick Berketa, followed in his grandfather's footsteps by becoming a police officer with the Niagara Regional Police Service and after leading a full career, retired with the rank of Detective Sergeant. Constable McNicoll's great grandson, Tyler Berketa, has also become a member of the Service and currently holds the rank of Detective Constable.
Constable Dennis Winstanley (age 30 years)

Start Date - Stamford Township Police Force (Niagara Falls Police) Mar. 31, 1958
Died - "Run Down" by an Impaired Driver - Feb. 3, 1962
On March 31st 1958, Dennis J. Winstanley joined the Stamford Township Police Department (later the City of Niagara Falls) at twenty-seven years of age. The young officer was married and the father to two young children.
On Saturday, February 3rd 1962, just shy of completing his fourth year of service as a police officer, Constable Winstanley was killed in the performance of his duties after he was run down by a motorist. Constable Winstanley had stopped a vehicle on Garner Road in the city of Niagara Falls for a routine traffic investigation. While standing beside his cruiser, interviewing the driver of the stopped vehicle, Constable Winstanley was struck and killed by a passing vehicle.
Through the efforts and alertness of three of the deceased's fellow officers, the suspect driver was apprehended in the vehicle about a kilometer and a half from the scene. The male driver was arrested and later charged with impaired driving related offences.
Constable Winstanley was described by then Chief J. L. Cunningham, as being a quiet, unassuming, talented, and conscientious officer, well liked by the public and his fellow officers; but above all, a good husband and a loving father.
Dennis was survived by his loving wife, Audrey Ruth Winstanley and his two children Judith and Kevin.
Aside from police work, Dennis Winstanley was very proficient in auto mechanics as well as woodworking and was involved in set design and construction in the local theatre and was also keenly interested in auto racing.
His untimely death left a gaping void, in his own home, his community and in the police department to which he belonged.
Constable Luciano DeSimone (age 24 years)

Start Date - Niagara Regional Police Force - Aug. 1, 1972
Died - "Cruiser Accident" responding to a disturbance, Niagara Falls - May 2, 1974
On August 1, 1972, Luciano DeSimone joined the Niagara Regional Police Force and was assigned to uniform patrol duties, initially in One Division in St. Catharines and then later out of the detachment in Fort Erie, Ontario. He was 23 years old and resided with his parents in the Town of Fort Erie.
On May 2, 1974, while working the evening shift in Fort Erie, Luciano was dispatched to the downtown area of the City of Niagara Falls. This call was in response to other police officers needing assistance with a major disturbance on Queen Street.
Constable DeSimone was driving northbound on the Queen Elizabeth Way from Fort Erie, traveling on the Welland River bridge, when his cruiser struck the rear of a flatbed transport truck that had stopped and was not visible to approaching traffic. The truck driver had stopped his rig in order to render assistance to a motorist who moments earlier had been involved in an accident on the highway.
Constable DeSimone was transported to the Greater Niagara General Hospital in Niagara Falls, but prior to arrival succumbed to the injuries he had received in the crash.
The Ontario Provincial Police investigated the collision and no charges were laid in regards to this collision.
Constable DeSimone was described as an extremely kind and loving man who enjoyed spending time with his family and friends. He enjoyed basketball, fishing and riding his motorcycle. He always wanted to serve as a police officer and looked forward to becoming a motorcycle officer one day.
This promising young officer was just 24 years of age when he died and was the first officer of the newly formed Niagara Regional Police Force to die in the performance of his duties. At the time of his death, Constable DeSimone was engaged to be married.
On November 8, 2019, during a ceremony at Niagara Regional Police Service Headquarters in presence of Constable DeSimone's family, local dignitaries, and the public, a Bridge Dedication Ceremony was held. During the ceremony, the bridge over the Welland River along the Queen Elizabeth Highway in Niagara Falls, was renamed and dedicated to Constable DeSimone. His service and sacrifice have not been forgotten.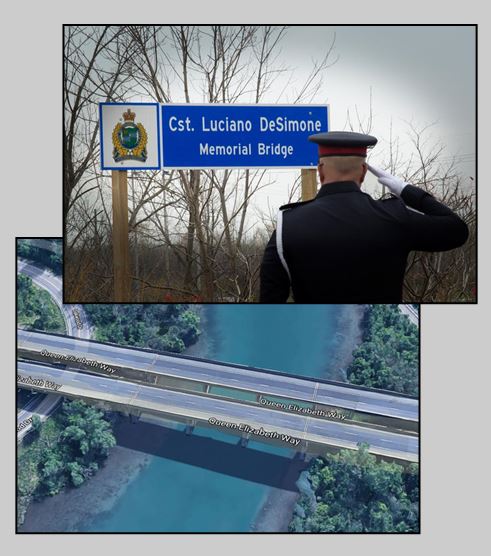 Constable Stephen Peazel (age 36 years)

Start Date - Niagara Regional Police Force - Apr. 28, 1975
Died - "Hit while directing Traffic" - Jan. 25, 1988 (complications due to the incident)
On April 28th 1975, Stephen Peazel joined the Niagara Regional Police Force at the age of twenty-three and eagerly took on the duties and responsibilities of a police constable.
A few years later in his career he married and he and his wife Sherrill (an O.P.P. Constable) settled in Port Colborne, Ontario and began the added challenge of raising a family. They had two sons, Thomas Allan (Tommy) and James Joseph (Joey).
On December 27th 1980, Constable Peazel was performing uniform duties and was directing traffic in the City of St. Catharines, when a vehicle traveling northbound on Geneva Street passed by him and struck him on his left side, injuring his left leg and foot. The driver of the vehicle was stopped and apprehended moments later and subsequently charged with Careless Driving.
Constable Peazel was transported to the hotel Dieu Hospital in St. Catharines and was treated for the injuries to his leg and foot and later released.
Steve was a big guy and not one prone to complaining and unfortunately it was not realized for some time the serious nature and the extent of the trauma to his foot and leg. He returned to active duty shortly after the incident but his health began deteriorating over the next couple of years, to the point that he could no longer work.
On January 25th 1988, at thirty-six years of age, this young officer died as a result of ensuing medical complications caused from blood clots in his injured leg and foot breaking away and collecting in his lungs.
This dedicated officer, who had a great love for his job was well liked and respected by all those who knew him and worked with him. He loved to fish and enjoy life to the fullest and even when he was feeling his worst, he always had the hope that some day he would return to his chosen profession.
Steve is missed by all who knew him.
Constable Jeffrey Paolozzi (age 32 years)

Start Date - Niagara Regional Police Force - Sept. 20, 1982
Died - "Shot" accidental Tactical Training Session - Feb. 6, 1993
On September 20th 1982, Jeffrey Paolozzi joined the Niagara Regional Police Force as a cadet at the age of twenty-two. Jeff had been an active volunteer with the Niagara Regional Police Auxiliary Unit for over a year prior to his being hired.
Two years later, in September of 1984, Jeff was appointed to the position of 4th Class Constable with the Police Force and began his life long dream of being a police officer.
On the morning of Saturday February 6th 1993, just prior to beginning a tactical training session at the police gun range, Jeff was killed by a bullet, which had been accidentally discharged from a tactical teammates firearm.
At the time of his passing, Jeff was survived by his wife Elaine and his two young children, Krysta (7) and Kevin (5).
Jeff was known as a dedicated officer who served with distinction and who had been the recipient of a number of commendations and awards. He will be remembered as a good friend by those whose lives he touched, a guy with a quick wit and a tremendous sense of humor who was a perfectionist in everything he did. He was a highly skilled sniper with the Emergency Task Unit and described as a "crack shot".
Over one thousand police officers from both Canada and the United States, along with emergency services personnel from throughout Niagara were in attendance at a full police funeral to bid this thirty-two year old officer a final farewell.
Constable Daniel Rathonyi (age 41 years)

Start Date - Niagara Regional Police Service - 2000
Died - "Collapsed" during completion of Emergency Task Force Unit Fitness Test - Sept. 15, 2005
On Thursday, September 15th, 2005, Constable Rathonyi collapsed and died as a result of heart failure while completing a fitness test for the Emergency Task Unit.
Constable Rathonyi and his family immigrated to Canada from Hungary in 1995. After arriving in Canada, Constable Rathonyi realized the beginning of his dream to become a police officer. In June of 2000, he was hired by the Niagara Regional Police Service as a Court Escort officer. He performed so well that, in September 2001, he was hired as a constable.
Constable Rathonyi was an excellent athlete and a three-time National Hungarian Junior Canoeing Champion.
Constable Rathonyi was described as an honourable and dedicated police officer who believed in protecting society and preserving our freedoms. He possessed an extremely positive attitude and was recognized for his service to the public and enthusiasm for his profession.
At the time of his death, Constable Rathonyi was forty-one years old. He was married to Agnes and they had two sons, Tom and Attila.
Constable Joan VanBreda (age 55 years)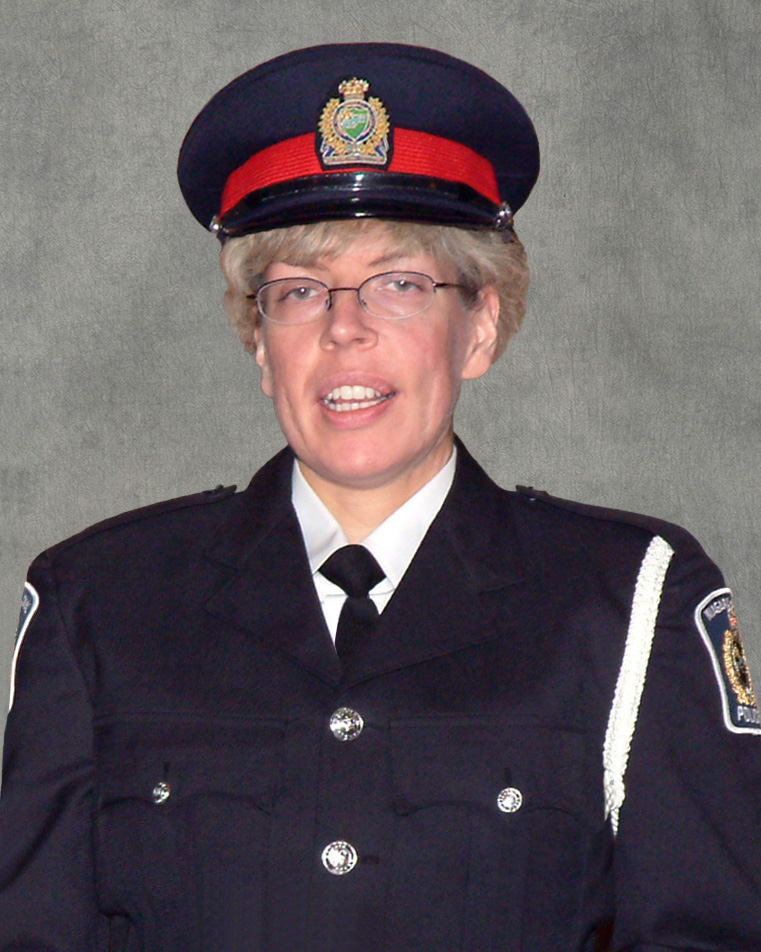 Start Date - Niagara Regional Police Service - Dec. 3, 1984
Died - "Struck by a motor vehicle while on duty" - May 22, 2020 (complications due to accident)
On the night of Wednesday, September 24, 1986, Constable VanBreda was investigating a traffic collision on 7th Street Louth in the City of St. Catharines. Constable VanBreda was crossing the roadway when she was struck by a motor vehicle being operated by an impaired driver who was arrested at the scene. Constable VanBreda sustained life-altering injuries and spent months in a coma.
Through her dedication, perseverance, and determination, Constable VanBreda returned to the career that she loved and contributed to the Service in administrative duties for over twenty years.
In this role, Constable VanBreda was routinely recognized for her excellent work ethic, diligence, and commitment.
Constable VanBreda was only twenty-two years old at the time of the collision. Her path was filled with both achievements and tribulations. Ultimately, due to ongoing medical issues as a result of being struck by a motor vehicle years earlier, she died on May 22, 2020. Constable VanBreda was fifty-five years old.