Auxiliary members provide a very valuable volunteer service to the Niagara Regional Police Service and their Community. Each member receives extensive training relating to the powers and duties of a police officer including Criminal Code and Provincial Offences Legislation, Use of Force, First Aid & CPR, Search & Rescue and Traffic Control.
The Niagara Regional Police Service Auxiliary Unit is a group of volunteers who are dedicated to serving their community. Members of the Auxiliary do not have police powers and must rely on the same laws of arrest given to the public.
In situations where the NRPS need more officers to control a special event, disaster or other emergency situations as deemed by the Chief of Police, Auxiliary Officers may be given the same arrest authority as police officers.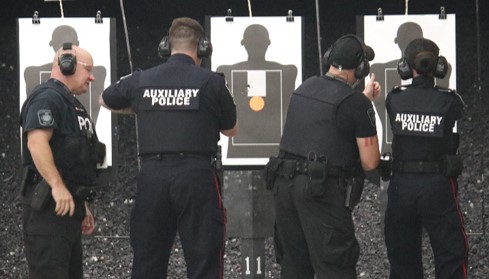 Steps to becoming an NRPS Auxiliary Officer
Candidates will complete a Pre-Interview Questionnaire.
If successful, candidates will complete a fitness PIN test. The fitness test consists of pushups, sit and reach, core endurance as well as the shuttle run.
If successful, candidates will complete a written local focus interview.
If successful with the written local focus interview, the candidate may proceed to an interview with a panel of NRPS recruiting staff.
If successful at the interview, the candidate will then take part in a psychological and medical assessment and proceed through a thorough background check.
Applicants must successfully complete all of the above stages to be appointed as an Auxiliary Officer.
Training
The training schedule is very demanding for the first six weeks of training, with a commitment of every Saturday and Sunday for 8 hours along with every Tuesday night for 4 hours. Training includes use of force, powers of arrest and learning about the different units within the Police Service.
Many training opportunities are available to our auxiliary officers to ensure they have the most recent understanding of laws and safety. Auxiliary members will also participate in annual requalification in firearms and use of force.
New recruits are expected to attend all mandatory training sessions at the beginning of their auxiliary career in order to graduate from the program.
After the training, a formal graduation takes place, where they are officially sworn in as Auxiliary Officers.
Areas of Training
The best training opportunities for those interested in policing are through the auxiliary
program.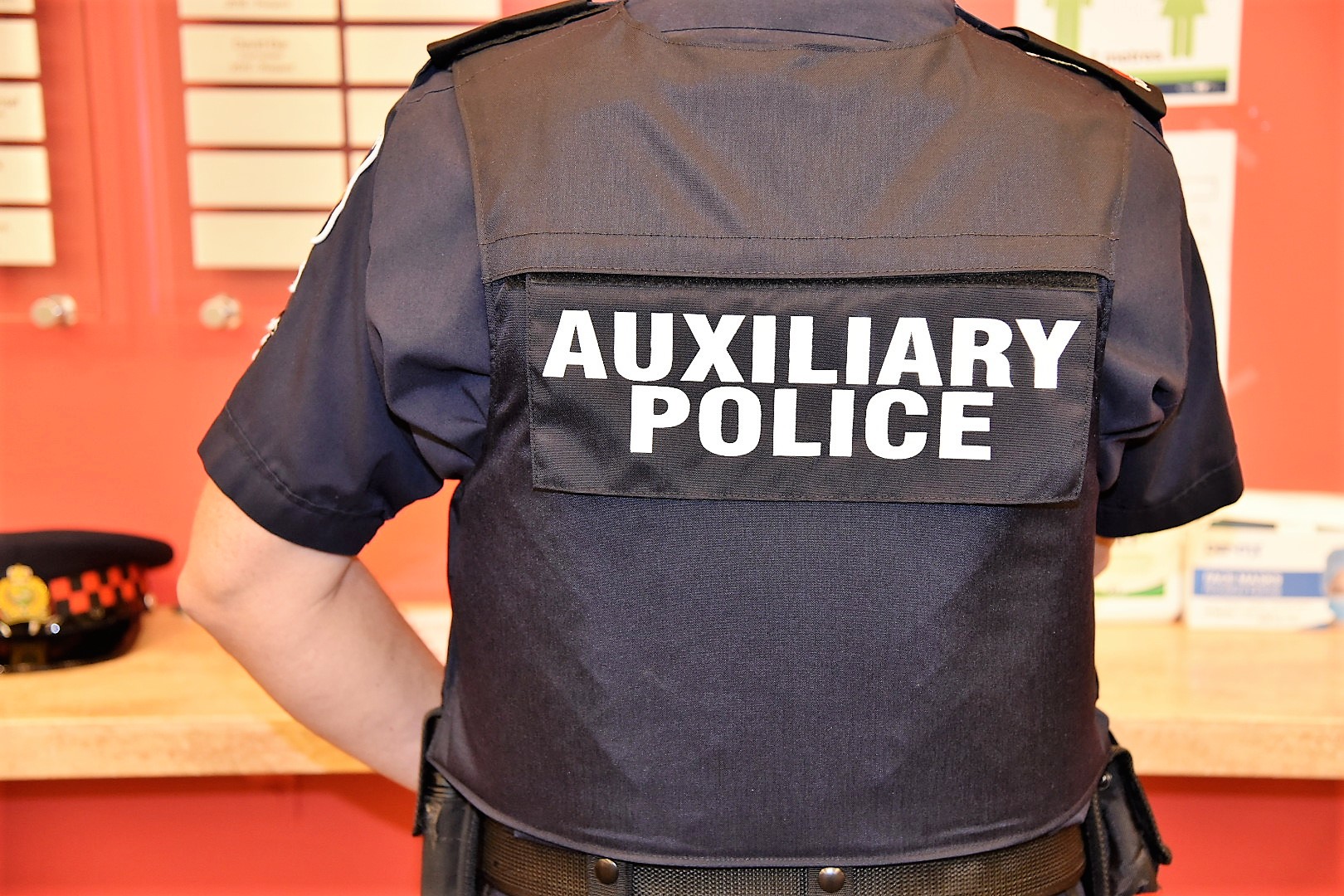 Training includes:
First Aid
Canadian Law
Defensive Tactics
Firearms
Physical fitness
Search & Rescue
Being an auxiliary officer is a rewarding experience and a great way to serve our community.
Over the course of several weeks, each member participates in mandatory training that includes evening and weekend classes.
Program Details
Auxiliary officers have the same uniform as police officers, but do not carry pepper spray, a gun or a conducted energy weapon. They will have the word "Auxiliary" below the police badge on either shoulder. The auxiliary officer's hat has a checkered pattern on it as opposed to solid red stripe.
Quite often Auxiliary is used as a stepping stone into the policing field. It is not a mandatory route to take, but it offers insight into policing as a career, and is a valuable tool for gaining experience.
Auxiliary Officers are not financially compensated.
Auxiliary Officers are expected to put in 16 volunteer hours each month. This includes a mandatory 4 hours per month of training. Many Auxiliary exceed the minimum expectation.