The Meaning Behind Our Crest
When the Regional Municipality of Niagara celebrated its 25th Anniversary in 1995, they approached the Chief Herald of Canada to be issued with a distinctive Coat of Arms that represented the history and peoples of one of Canada's most distinctive areas.
As part of its own 25th Anniversary celebrations, to celebrate its history, and to recognize the rich heritage of the Niagara Region, the Niagara Regional Police Service accepted a suggestion from then Sergeant Bob Ciupa, and sought permission from the Regional Municipality of Niagara to use the shield from its Coat of Arms as the basis to have new colours issued to the Service.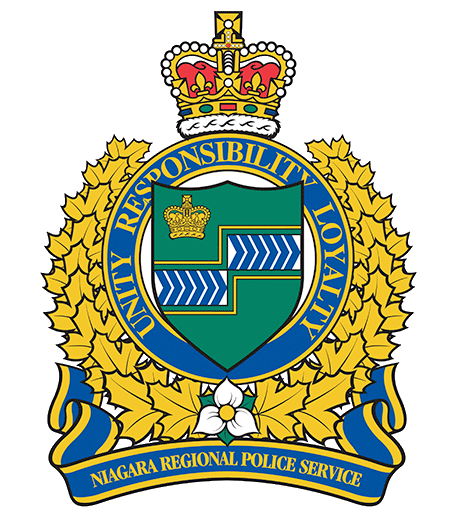 The colours, presented on October 6th, 1996, by the Honourable Henry N. R. Jackman, Lieutenant Governor of Ontario, include the version of the national badge for municipal police services in the form particular to the Niagara Regional Police Service. The national badge was created in 1991 by Her Majesty the Queen on the recommendation of His Excellency the Governor General. It may be granted to any municipal police service which is part of a municipal corporation that possesses a Coat of Arms by lawful grant from the Crown.
An element shared by all such badges is a frame of gold maple leaves rising up from a representation of the provincial flower from the Province in which the service is sited, all ensigned by the Royal Crown. Also shared is the shield of arms of the particular community, encircled by a scroll containing the motto of the Police Service to whom the badge is granted.
The central element of the Niagara Regional Police Service badge is its shield, drawn from the Coat of Arms of the Regional Municipality of Niagara. It is a pictorial representation of Niagara's past and present. Its green background represents the rich agricultural lands and abundant parks of the Region. The blue and white band in the center represents both the Niagara Escarpment and Niagara Falls, as well as the Welland Canal, with its locks represented in the chevrons. These 12 blue chevrons also represent the 12 area municipalities linked together in the Region. The gold lines represent the wealth, which flows from the attributes of Regional Niagara. The Royal Crown, in gold, symbolizes the first Parliament in Ontario in Newark (Niagara on the Lake) and the strong Loyalist tradition. Her Majesty gave Royal approval at Windsor Castle during the week of April 16th, 1996 for the Niagara Regional Police Service to use this crown in its badge.
Our Regional motto, "Unity Loyalty Responsibility" recognizes the important foundations of Niagara's history and imparts a vision of the future upon which generations may focus.
This Badge becomes the third in the history of the Niagara Regional Police Service, but for the first time, it is a symbol created specifically for the Niagara Regional Police; one that represents our community, our peoples and our heritage.