Due to the ongoing COVID-19 pandemic, we are reducing and in many cases electing to not take part in "in person" interviews. We will attempt to facilitate the interview through other means. eg. Skype, Facetime, email or telephone. If there is a need, in person interviews will require media personnel to have clean, remote equipment that allows for physical distancing. Interviewers may also be subject to COVID screening questions.
The Media Relations personnel work with the media to provide the community with accurate and timely information. Information is often shared through press conferences, interviews, media releases and the use of Social Media. To promote an atmosphere of fairness and accountability, media releases are also available to the general public in the News / Media Releases section of our website, and through our Facebook, Twitter and Instagram accounts.
Media inquiries outside of traditional business hours, on holidays, and on weekends may not receive an immediate response.
The hours of the media office are 7:00AM - 4:00PM Monday to Friday. Please direct all email media inquiries to the on duty media personnel at:
Our on duty media relations personnel are sometimes out of the office and emails can sometimes be responded to in a timelier manner by the use of our smartphones and email.
Media inquiries can be left at 905-688-4111 ext. 1025010. This is a dedicated media inquiry hotline. This mail box is accessible to all members of the media relations unit. The on duty media officer will attempt to return the call as soon as practicable.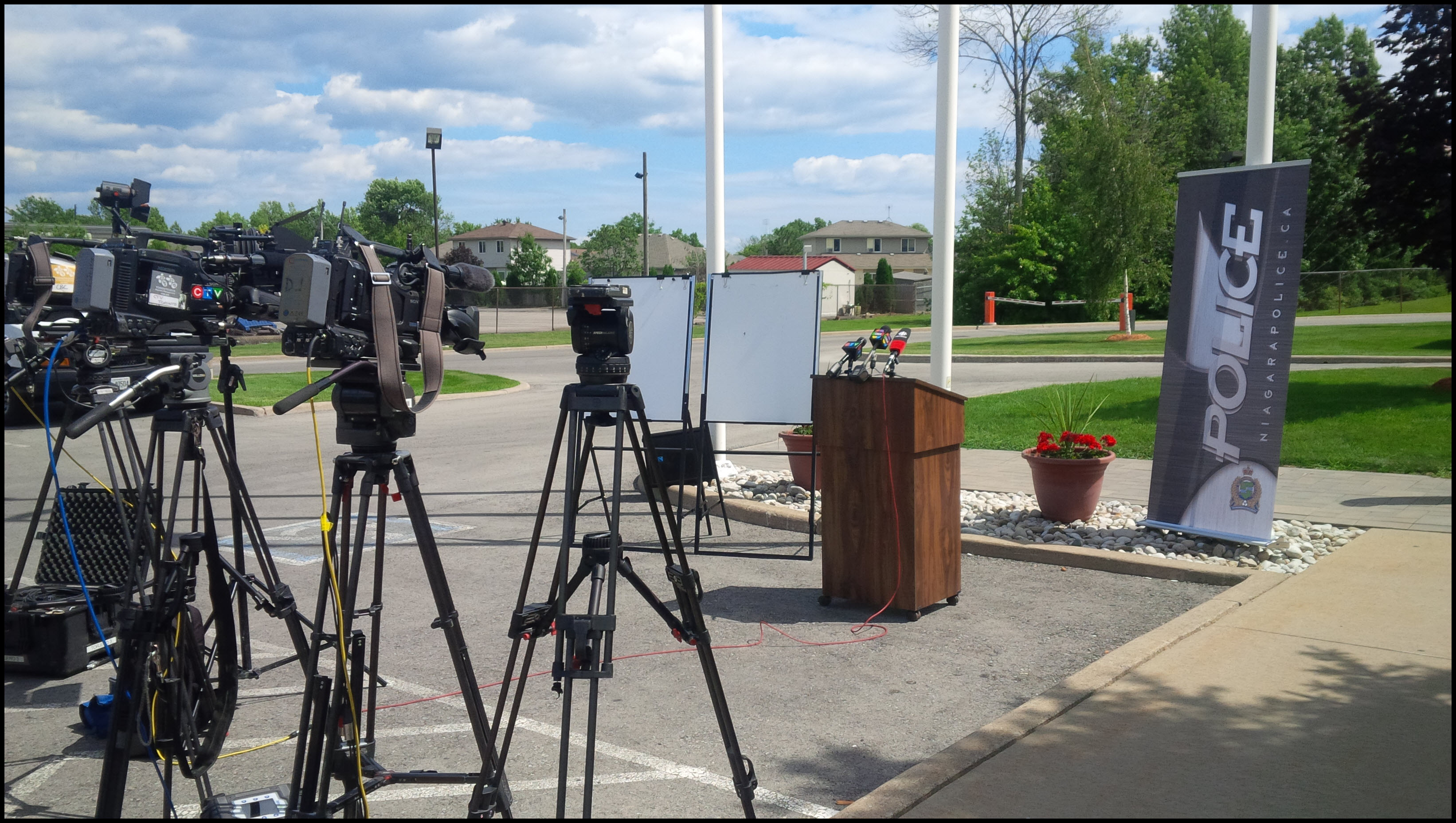 After hours and on weekends the Media may also wish to consider contacting the uniform Staff Sergeant / Sergeant of the patrol area you are interested in, by calling 905-688-4111
#1 District - St. Catharines / Thorold - ext. 1024233, 1024234
#2 District - Niagara Falls / Niagara on the Lake - ext. 1022200
#3 District - Welland / Pelham - ext. 1023300
#5 District - Fort Erie - ext. 1022300
#6 District - Port Colborne / Wainfleet - ext. 1023200
#8 District - Grimsby / Lincoln / West Lincoln - ext. 1025400
Grimsby, Port Colborne and Fort Erie do not have 24 hour administrative services. Calling their respective partnered office (Niagara Falls - Fort Erie, Welland - Port Colborne, Grimsby) may be of assistance.
During ongoing large scale incidents telephone calls and emails to the media office for information may not be immediately returned. Out of necessity we may default to our social media platforms.
Information regarding ongoing large scale incidents can often be obtained by following the NRPS and its members on social media. Social media is a great tool to share information, it can be prone to fuel rumour and misinformation. Please consider the NRPS social media accounts first as an official source for policing matters relating to the Niagara Region.