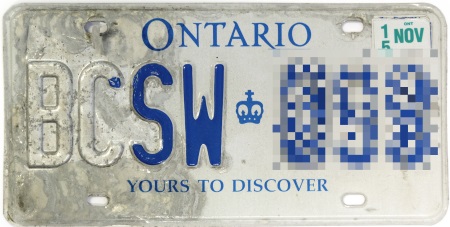 THE PROBLEM OF DEGRADED LICENCE PLATES
There has been a drastic increase in the number of plates that are suffering from peeling, fading, blistering and rusting - rendering them difficult or impossible to read. Much of the problem is the result of a manufacturing defect that caused plates to prematurely degrade, and although such degradation is not the fault of motorists, the frequency of unreadable plates has made the situation problematic.
PLATES MUST BE READABLE
It It is important that police are able to readily identify vehicles from the front and back to ensure compliance with the law. But just as important, members of the general public often use licence plates to report vehicles used in crimes. Also, many toll and border systems automatically read licence plates and require a clear image.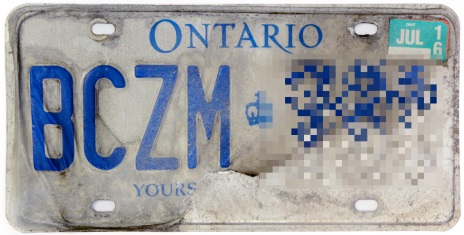 IS IT AN OFFENCE?
Motorists are reminded that section 13(2) on the Ontario Highway Traffic Act does require motorists to ensure that their licence plates (called "number plates" in the Act) are readable and correctly displayed.
5-YEAR MANUFACTURER'S WARRANTY ON PLATES
If the lamination on the plate(s) is peeling or bubbling, motorists are asked to visit ServiceOntario to get them replaced. In many cases, the plates will be replaced at no charge. Ontario licence plates are covered by the manufacturer-warranty for up to 5 years under normal wear and tear. If the lamination started peeling and bubbling within five years of getting the plates, the manufacturer warranty applies and the motorist will receive the replacements at no charge. Otherwise, there is a $59 fee to replace them.

HOW TO GET REPLACEMENT PLATES
For replacement, both plates must be taken to a ServiceOntario centre in addition to:
identification (e.g. drivers licence)
proof of valid insurance
the vehicle permit (plate and vehicle portions)
Plates are replaced on the spot, with new numbers, unless the plate is personalized, in which case the original numbers and letters are reissued.