The Communications Unit operates 24 hours a day, seven days a week. Our role is to provide the Police Service with a centralized control of personnel and facilitate field operations through the rapid dissemination of critical information by radio and telephone.
"Niagara Emergency, Do you require Police, Fire or Ambulance?"
Niagara Regional Police Service is the Primary Public Safety Answering Point (PSAP) for the Region of Niagara. The Communications Unit is responsible for the initial answering of all 911 emergency calls. In 2011, NRPS Communications Unit answered a total of 178,702 9-1-1 calls, and of that, 138,828 calls were for police assistance.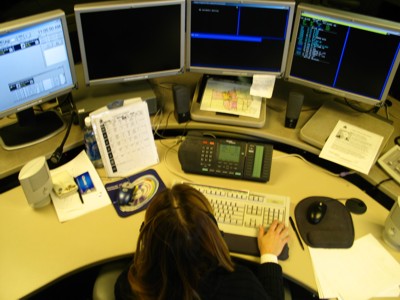 The Communications Unit also receives and processes all non-emergency calls for service received from the public, as well as monitoring patrol units using voice and data transmissions. Police respond to an average of 132,306 calls for service per year.
What is an Emergency?
An emergency is any situation where the safety of a person or property is at risk. An emergency could be a fire, a medical situation, or a crime in progress, or an unknown situation when someone asks you to call 9 1 1 for them.
Examples of non-emergency type calls would be belated accidents, parking complaints, found property or any other information about general policing.
Help Us Help You
In the event of an emergency, try to remain calm. Dial 9-1-1 and be prepared to answer a few questions. At very least, provide your location. This is especially important when you are calling from a cellular phone or VoIP phones. You will also be asked to confirm your telephone number and what the situation is. You may be given instructions or asked to stay on the line to provide further details to the call-taker. Because of the different positions in the Communications Unit, a call-taker can stay on the line with the caller, while another person is able to send assistance and handle the dispatch requirements.
For more information on 9-1-1 and other Emergency and non-emergency numbers see our When to Call 911 page.